Proudly Serving our Community –
People Helping People
Our mission is to provide and maintain a non-profit EMS system which will protect,educate and serve the residents and visitors of the Town of Seymour and surrounding towns in a consistent and professional manner, providing the highest quality emergency medical care and service to the community.
you can make a difference.
Learn to SAVE a life! Full Tuition Reimbursement Available. Tuition per student is $850.00 Get 50% back after 1st year and 50% back after 2nd year of SEMS Membership (Restrictions Apply)








Upcoming Events Below
Here at Seymour EMS, we provide the opportunity to learn. Check back frequently, new events and classes are added all the time! Below are the classes we are currently offering. If you need additional information or have any questions please call us at 203-888-8843.
Teaching Young Teens –
Safe Sitter Course
Safe Sitter® prepares students in grades 6-8 (Ages 11 – 14) to be safe when they're home alone, watching younger siblings, or babysitting.
Students learn life-saving skills such as how to rescue someone who's choking, and helpful information like what to do if there's severe weather. The lessons are filled with fun activities and role-playing exercises. Students even get to use CPR manikins to practice choking rescue!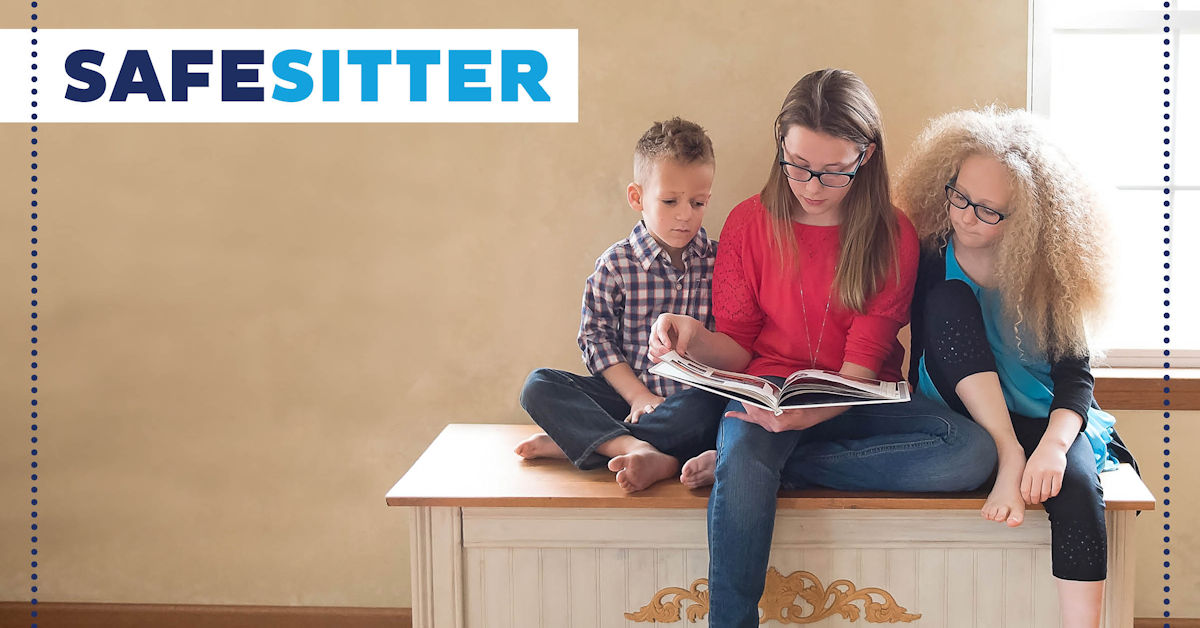 Safe Sitter Course Info
 Date: Tuesday August 20, 2019 Time: 9:00am – 3:00pm Fee: $90.00 Place: Seymour Ambulance Association, 4 Wakeley St Seymour CT. 06483
**Students should bring a bagged lunch and beverage**
Click here to print or download our Safe Safe Sitter Flyer.
Safe Sitter® Course Content:
Students learn how to prevent unsafe situations and what to do when faced with dangers such as power failures or weather emergencies.
Students learn tips to manage behavior that will help them stay in control of themselves and the children in their care. Students also learn the ages and stages of child development, as well as practice diapering.
Learning skills such as choking rescue is often students' favorite part of the class. Students also learn a system to help them assess and respond to injuries and illnesses.
The ability to screen jobs, discuss fees, and greet employers will set students up for success now and in the future. Students practice these skills through various role plays.
Students will receive a Safe Sitter® Student Handbook, Safe Sitter® completion Card and American Heart Association CPR Card
Safe Boater Course
Hosted by Seymour Ambulance Association –
4 Wakeley St. Seymour CT. 06483
Combination Safe Boating / Personal Watercraft Course
This course is approved by N.A.S.B.L.A. and by the US Coast Gaurd. Successful completion will allow the student to obtain a Connecticut Certificate of Personal Watercraft Operation. This enables you to operate recreational vessels up to 65 feet in length with some age restrictions for younger operators. An easy to understand classroom format is designed for students age 12 and over.
Prior to taking this class, each student should create an account at http://www.ct.gov/deep/sportsmenlicensing (must create an account if you do not have one). Students should bring their Conservation ID number to class. After the last class, your instructor will complete DEEP system requirements and you will use your account to purchase and print the Certificate of Personal Watercraft Operation.
Date: Monday August 19th and Wednesday August 21st
Time: 6:00pm – 10:00pm BOTH Evenings Fee: $20.00
Enroll Today! – Contact Debbi at: 203-888-8843 ext 1
CPR Training Opportunities-Learn to Save a Life with your Own Two Hands
Hosted by Seymour Ambulance Association
Classes, Dates & Pricing – Call to Register Ext. 1 
HEARTSAVER Pediatric CPR/AED:
Monday, September 16th 6:30-8:30 $50.00
HEARTSAVER Adult/Child/Infant CPR/AED:
Friday, September 27th 6:30-8:30 $65.00
HEARTSAVER CPR, AED, & First AID:
Saturday, October 12th 9:00-3:00 $85.00
Seymour Ambulance
Emergency Medical Technician
Evening Programs
Class 1 – September 9th – December 20th
Class 2– September 10th – December 20th
Class 1 – Mondays & Wednesdays 6pm-10pm
Class 2– Tuesdays & Thursdays 6pm – 10pm
Both with 5 Saturday Classes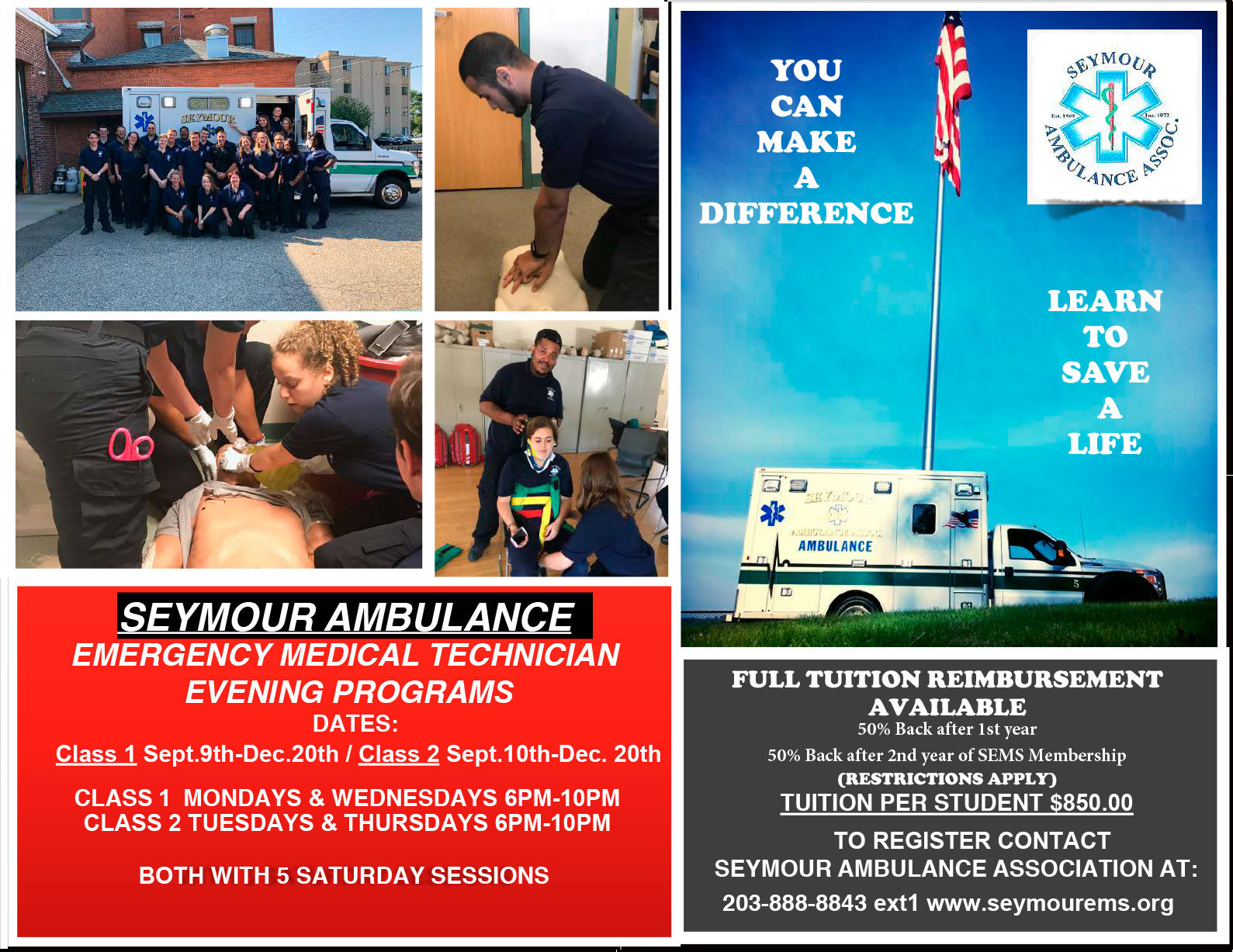 January

February

March

April

May

June

July

August

September

October

November

December
213

153

186

164

190

165

200

196

183

216

172

200
199

160

173

192

176

194

194

192

197
Seymour EMS
Part Of Our Life Is Saving Lives